Were this a visit to my non virtual studio, I would surely be offering you, at least, a glass of wine. Let's pretend that is the case; so, fill your glass and relax. For the next few minutes, you are the most important VIP visiting the gallery. Go ahead; I hope you have a pleasant stay. Your opinion about the page itself, as well as the artistic work will be welcome, for which you'll find, along your journey the posibility to send me an e-mail. I offer you the most cordial welcome. ¡Enjoy yourself! And set free the art critic within you.
Luis Viñals / Member of the Mexican Society of Watercolor Painters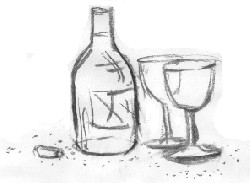 Si esta fuera una visita a mi estudio no virtual, con toda seguridad le estaría invitando, por lo menos, una copa de vino. De modo que, digamos que ése es el caso, sírvase una copa y relájese. Por los próximos minutos, usted es huésped distinguido en esta galería. Adelante; espero que su visita sea placentera. Sus opiniones sobre la página y la obra contenida en ella serán bienvenidas, para lo cuál encontrará, a lo largo de su recorrido la posibilidad de mandarme un e-mail. Le ofrezco la más cordial bienvenida. ¡Diviértase! Y dé rienda suelta al crítico de arte que lleva dentro.
Luis Viñals / Miembro de la Sociedad Mexicana de Acuarelistas
WHY WATERCOLOR?
Watercolor is, without a doubt, the most free and fluid of pictorial expression media. Through watercolor it is possible to achieve definition, contrast, harmony, light, in short; everything susceptible of being painted: be it a realistic topic, a feeling or a new intent along the extensive line of the artist´s experimentation. Watercolor has contributed to painting new, different and more risk filled facets of a miriad painters since the renaissance.
A media initially used by painters for quick sketches to be latter translated, in the artist´s studio, into more "serious" work. Nevertheless, as time has elapsed, through the endeavors and creativity of artists, watercolor now stands as a main painting media among artists around the world. As mexican painter Luis Amendolla once said, "…watercolor is the Rolls Royce of painting".
CONTENTS / CONTENIDO
| | |
| --- | --- |
| THE MUSICAL FIGURE | FIGURA MUSICAL |
| | |
| --- | --- |
| CHARCOAL DRAWING | DIBUJO AL CARBON |
| | |
| --- | --- |
| FIGURE IN WATERCOLOR | FIGURA EN ACUARELA |
| | |
| --- | --- |
| NUDE CHARCOAL DRAWING | DESNUDO AL CARBON |

MENU
¿POR QUE ACUARELA?
La acuarela es, sin lugar a dudas, el medio de expresión pictórica más libre y fluído. A través de ella es posible lograr definición, contraste, armonía, luz, en fin; todo aquello susceptible de ser pintado: sea esto un tema realista, un sentimiento o un nuevo intento en la larga ruta de experimentación del artista. La acuarela a contribuído al mundo de la pintura, facetas nuevas, diferentes y más arriesgadas de un sinnúmero de pintores desde el renacimiento hasta nuestros días.
Un medio originalmente utilizado por los pintores en la realización de apuntes rápidos para ser traducidos más tarde, en el estudio del artista, en obra "seria". Sin embargo, a lo largo del tiempo, a través del trabajo y la creatividad de los artistas, la acuarela ocupa hoy un lugar indiscutiblemente preponderante en la pintura en todo el mundo. Como dijera en algún momento el pintor mexicano Luis Amendolla, "…la acuarela es el Rolls Royce de la pintura".